An enterprise energy management system for industrial and commercial sectors Are you aware of your energy usage?
Energy Methods brings complete energy management solutions for the industrial and commercial sectors.

Best-in-Class Methodology
Best-in-class energy management practices, methodologies and technologies to improve user experience and productivity Smart, Intuitive, Friendly
Collects, aggregates, and presents all data in a highly intuitive, graphical and user friendly interface Highly customizable to fit any manufacturing production process or commercial facility
Energy Methods brings complete energy management solutions for the industrial and commercial sectors. Energy Methods captures all consumption, production and cost data and combines it with important factors such as environmental and process specific data. It then goes to generate a complete view of energy performance of the facility in question.
The Energy Methods software provides corporations the ability to capture and gather all energy, cost and production information from all locations into a central system. Powerful analytic and reporting tools allow for all KPIs to be captured and analysed at all levels of the business identifying areas of improvement.
Energy Methods is designed to fit into any business or industry regardless of its complexity levels. It is also highly configurable and scalable to allow it to grow alongside the business as its size, scope and complexity grows.
Continuous Improvement Process
Energy Methods focuses on continuous improvement. It adapts the ISO 50001 model in its viewpoint towards continuous energy efficiency and sustainability improvements. This model ensures that all gains in energy efficiency are sustained and further improved over the long run.
Collect

Capture energy consumption, production, cost, temperature, operating scenarios and more automatically from various sources into a central repository.

Monitor

Access and view all energy consumptions as well as their real-time targets. Identify non-conformities and take preventative actions.

Analyze

Use the system's advanced analytics to review the organizations's energy performance and uncover areas of improvement.

Plan

Define new energy efficiency projects, Calculate a transparent ROI and Prioritize your projects.

Act

Execute energy efficiency projects.
Energy Methods provides all the necessary tools to help get on track to ISO 50001 certification:
Enterprise Architecture
Energy Methods is configurable to handle various types of operations, from manufacturing facilities to offices.
Advanced Data Collection
The advanced interfacing capabilities of Energy Methods allow it to communicate with any PLC systems, database driven production systems, websites and more in order to capture consumption, production, cost and environmental data.
The interface system is highly intuitive, flexible and robust. It can be configured for communication with various systems very easily and quickly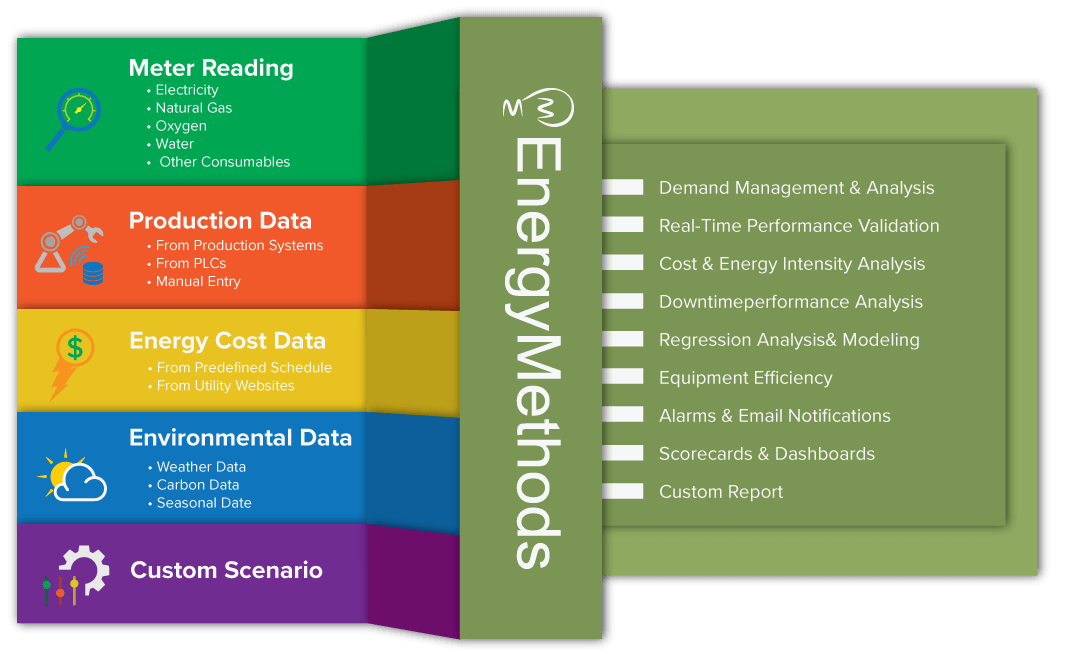 Missing historical data for monitoring and targeting? Don't have an extensive network of meters? Tracking energy consumption manually through utility bills?
Not a problem.
Energy Method's modular design allows you to save costs by starting with the basics, and unlocking additional features as your needs become more sophisticated.