Advanced Tools for your Production and Performance Analysis
Welcome to the next step in the evolution of QMOS. With QMOS MI and its advanced web based analytics, our users gain unlimited visibility into the vast production and performance data collected by QMOS.
QMOS MI enables the users to perform multi-dimensional slicing and dicing of the data while drilling down to find exactly what they are looking for. QMOS MI provides a one-stop-shop for all analytical needs from the melt shop to the finishing operations and everything in between.
QMOS MI brings a whole new way to slice and dice your production data. Now you can perform multidimensional analysis of all your production, performance, and process data with great ease and drill down to the problem areas effortlessly.
Melt Shop Analysis
Rolling Mill Analysis
Finishing Analysis
Delay Analysis
Quality and Hold Codes
Test Results Analysis
Heat Genealogy
Production Calendar
Data Exports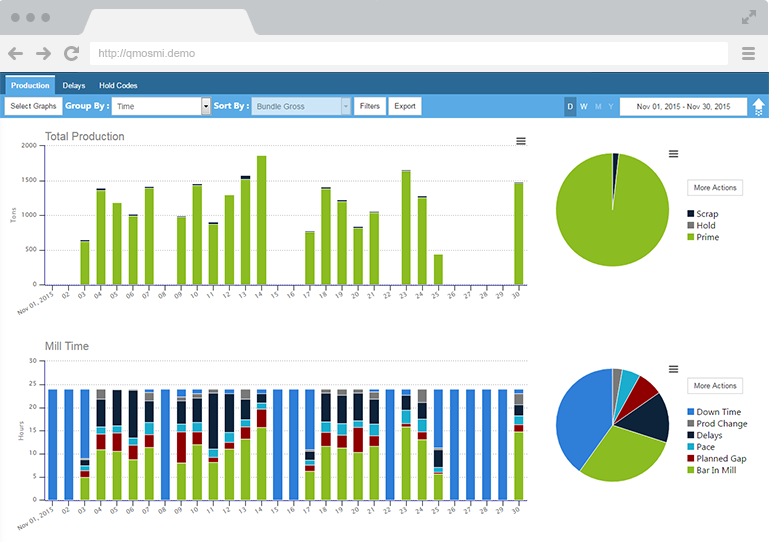 For the first time in the industry, QMOS brings an end to end view of the entire life cycle of a heat in a single, highly graphical screen. In a single glance, QMOS MI genealogy enables you to view all production, consumptions, events, test results, process parameters and much more.

QMOS captures many process parameters such as strand speeds, scillations, mould levels, water flows, temperatures, electricity and a lot more. All these parameters are linked to respective heats and can be retrieved as a part of the genealogy.

QMOS MI brings a new approach to the analysis of test results. You can see the cause and effects of various properties on each other.
For example how do your various chemistry elements affect the physical properties? Or is there a pattern between your casting temperatures the tensile values?
You can even analyze the effects of material additives on chemistry results which would enable you to create more efficient recipes.